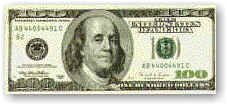 We pride ourselves on providing National Quality Web Sites at affordable rates, and we put our money where our mouth is!
Bring us your best legitimate design quote from any Professional Web Site Design Company, and if we can't design the site for a lower price we'll pay you $100 just for giving us the chance to beat the competition's estimate. We've outdone every quote so far, plus we've even brought every project in under budget!
Our Clients typically save anywhere from 30 to 75 percent off of what other designers charge who do the same or lower quality work. We're committed to saving you money without sacrificing quality. You'll find that we are your best value. We Guarantee It!